HIA-LI Women Leading The Way Breakfast #MeToo And More
HIA-LI Leans In for Women in the Workplace
By Nancy Vallarella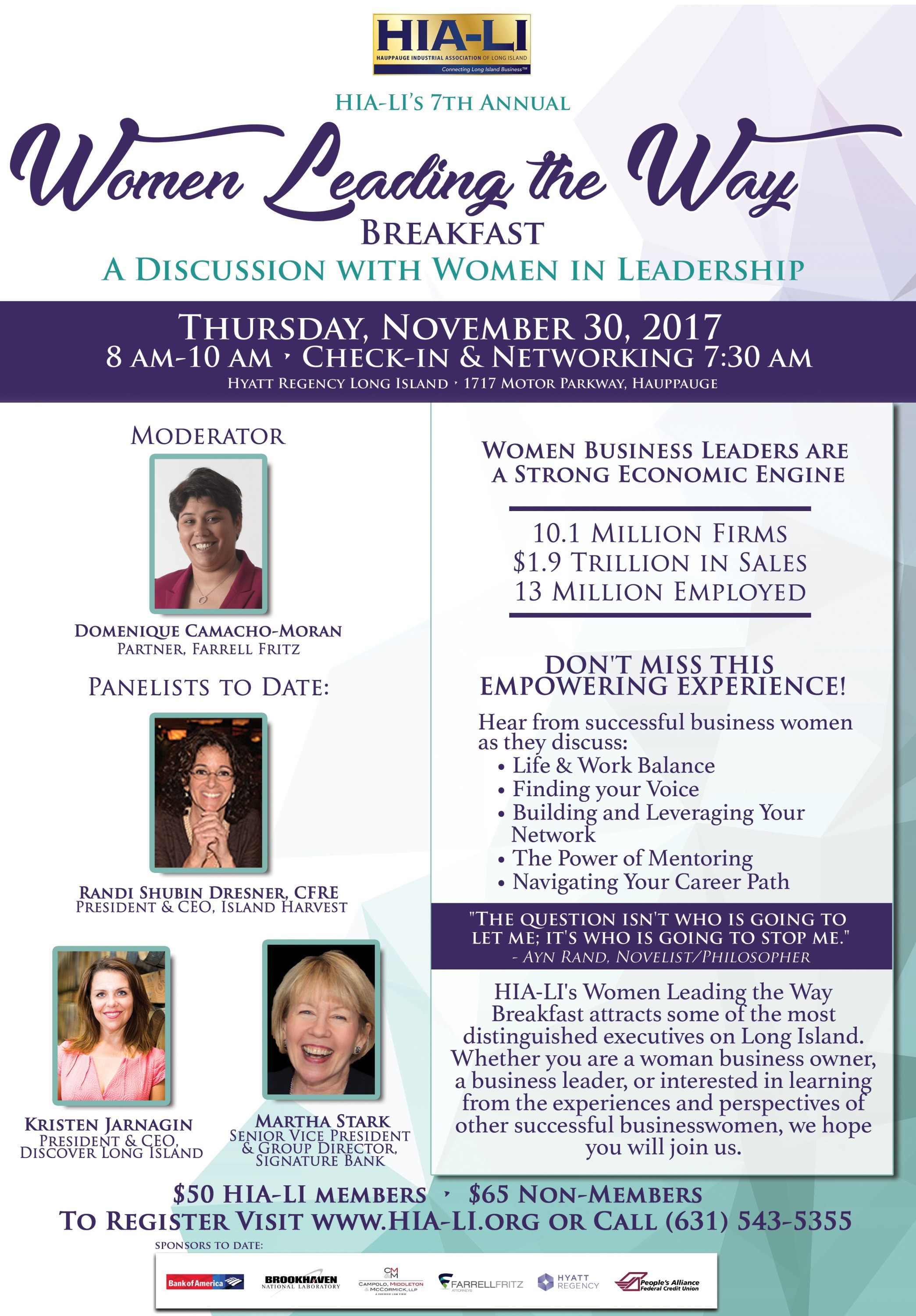 HIA-LI orchestrated the 7thAnnual Women Leading the Way Breakfast last Thursday, November 30th. Women of various career levels, spanning generations and industries took the time to share experience, business knowledge, and make suggestions for enhancing capability while navigating workplace issues.
Terri Alessi-Miceli, HIA-LI President, and Dianne Faria, HIA-LI's Director of Operations deftly addressed a full ballroom of attendees at the Hyatt Regency Long Island. Their opening statements painted a picture of relevance and competency while highlighting the impressive cast of panelists, the spectrum of attendees, and topics impacting the economy, business, and individual careers.
Senator Kirstin Gillibrand led the way via video address outlining the progress and shortfalls concerning women working in today's economy. Talking points of life and work balance, finding voice, networking, mentoring and navigating a career path, prompted commentary from the panel of female executives: Randi Shubin Dresner, President and CEO, Island Harvest, Kristin Jarnagin, President and CEO, Discover Long Island, and Martha Stark, Senior Vice President and Group Director, Signature Bank.
Island Harvest's Randi Shubin Dresner, attributed her career success to mentors in her life that encouraged her throughout her career path. She also credited work and life blending, not balancing, as a more realistic approach.
Arizona transplant and single mother of two, Kristen Jarnagin advised, "Take risks. Take on challenges. Examine your strengths. Stretch yourself. Do something you are afraid of every day. Fear leads to intimidation, and that holds you back."
Senior Vice President of Signature Bank, Martha Stark, known for her expert relationship building abilities, is an advocate of maintaining and building relationships and not relying on networking.
Over 60 minutes, the businesswomen also exchanged opinions on interview impressions, local economics, pay equity, gender bias and social media. Social media organically prompting the #MeToo phenomenon with a thought-provoking conversation that voiced positive and concerned opinions. Panel Moderator, Domenique Camacho-Moran, Partner, Farrell Fritz led the event's panel discussion leaving the controversial topic for last. Her masterful navigation gave way to panelist's insights on the other topics that also have ongoing relevance without being consumed by the national limelight of one.
Skillfully organized by the HIA-LI, this forum of credible information from relatable, accomplished, and local businesswomen proved to be an impressive resource for all working women.
Nancy Vallarella is a freelance writer well known for her articles under the headline What's Cookin? Smithtown. She is also an advisory board member of the Smithtown Children's Foundation and program coordinator – Know Real Food LI.