HIA-LI's 40th Anniversary Holiday Gala
HIA-LI's 40th Anniversary Holiday Gala
40 Years of Shining a Light on Long Island Business
Join Us for dinner & dancing at Stonebridge Country Club on Thursday, December 13, 2018 from 6:00PM – 10:00PM for our 40th Anniversary Holiday Gala. We invite you to celebrate with us as we commemorate our history & acknowledge our deserving honorees.
40 Years of History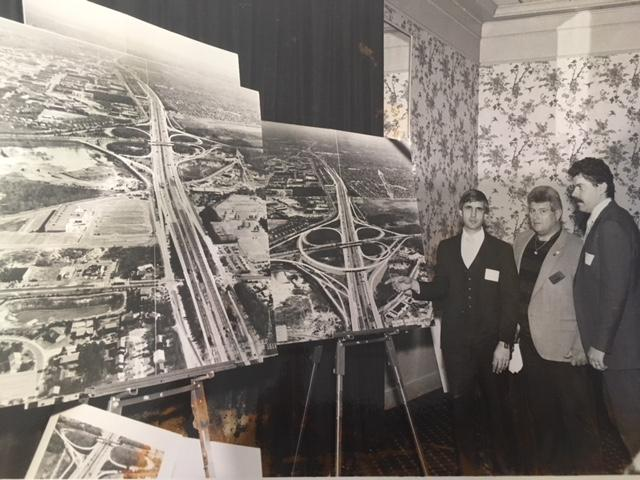 Jack Kulka, President and Founder, The Kulka Group & HIA-LI Lifetime board member with a map of the Hauppauge Industrial Park, 1987
In 1978 , a blackout affecting the Hauppauge Industrial Park left tenants without power for three days. Since there was no one to speak on behalf of the tenants in this time of crisis, The HIA-LI was formed.
In the four decades since, HIA-LI has become the recognized voice for business on Long Island and a powerful force and economic engine for regional development.
---
Our Honorees
Jack Kulka
HIA-LI Leadership Award
Jack H. Kulka, PE, LEED AP grew up an only child in the Bronx to immigrant parents. At a young age his intelligence was quickly recognized and he received a full scholarship to attend The Bronx Science High School, one of the top high schools in the world. Once graduating from high school, he received a full scholarship to NYU where he received a bachelor of science in Electrical Engineering. Following graduation he became Professional Engineer in both the states of New York and New Jersey.
At age 34 Jack founded Kulka Construction and created the idea of Construction Management across Long Island. At an early age he was the only non-lawyer involved with creating the CMAA contractual documents and quickly became recognized for giving clients quality building at a lower cost. Over the past 39 years, Jack has been responsible for the construction of over 22 million square feet across the Tri-State and South Florida.
Mr. Kulka has held several leadership positions in organizations tied to both his professional and personal life. He served as president of the Commack Jewish Center and as Board Chairman of the Long Island Israeli Bond Campaign, The United Way of Long Island Campaign, The American Cancer Society Theatre Party Fund Drive, The St. John's Episcopal Hospital Development Committee and The Hauppauge Educational Foundations. Mr. Kulka is also the founder and Past President of numerous organizations, including Suffolk Y Jewish Community Center, the Farmingdale College Foundation, and of course the HIA-LI.
Throughout the last 40 years, Jack has demonstrated extraordinary leadership with the HIA-LI. He has continuously worked to benefit the organizations' growing membership and the Long Island Business Community. His contributions have been significant; from establishing working partnerships with local, state and federal officials as well as business organizations on Long Island to his most recent position as co-chair of the HIP Solar Initiative, which seeks to outfit businesses in the Hauppauge Industrial Park with renewable and efficient energy.
Mr. Kulka is an existing member of the New York's State Society of Professional Engineers and serves on numerous organizational governing and advisory boards, including the Touro Law Center, the Metropolitan New York Chapter of the Jewish Institute for National Security Affairs, the Bi-County Political Action Committee and the Long Island Holocaust Committee. He is also a member of the Suffolk County Electrical Agency.
Miller Business Resource Center
HIA-LI Partnership Award
Aware of the need to support the local business community, the
Middle Country Public Library
created the
Miller Business Center
in 2003 to serve as a regional resource for businesses, entrepreneurs, not-for-profit organizations, and individuals. Promoting regional economic development, the
Miller Business Center
responds to the information needs of the business community, fosters a literate and job-ready workforce, and provides employment and career exploration opportunities. The
Miller Business Center
and its team of specially trained business librarians support the business community by providing access to specialized business resources, personalized business research and reference assistance, networking opportunities, educational workshops and employment and career information. Featured programs and events include,
Miller Business Mornings
,
Women's EXPO
,
Strictly Business
and the
Miller Business Academy
. In addition, the Miller Business Center works in partnership with Long Island business support organizations to provide greater public access to the information and services they offer. Supported by the efforts of the Library and the
Middle Country Library Foundation
, the Center is named for John D. Miller, a Long Island philanthropist who knows from personal experience the importance of information resources and business research assistance to small businesses and independent entrepreneurs.
Suffolk County Industrial Development Agency
HIA-LI Partnership Award
The mission of the
Suffolk County Industrial Development Agency (IDA)
is to promote economic development in the County by helping businesses expand and grow, increase employment opportunities and add to the quality of life its residents. The
IDA
takes a holistic approach to fulfilling this mission, offering financial incentives, access to other critical business resources and through technical assistance and research efforts that spur economic development on a broader scale. Over the last three years,
IDA
incentives have leveraged private capital investment of more than $450 million and the creation or retention of nearly 5,600 jobs with a combined annual payroll of $345 million.
Town of Smithtown
HIA-LI Partnership Award
The town of Smithtown
, formerly known as "Smithfield" until 1665 has a history like no other town. Legend claims that after rescuing a Native American chief's kidnapped daughter, a man named Richard Smith was told by the chief that any land he could circle while riding a bull in one day would be granted to him. Smith wisely chose to claim his land on the summer solstice, "the longest day of the year." Smith and his bull were able to circle what we now know as
Smithtown
. Smith's legacy lives on to this day as there is a statue of his bull known as Whisper, which today's residents still know by name. Along with Whisper, there is also a road that pays homage to Smith known as Bread and Cheese Hollow Road. This road is where Smith decided to make a quick stop to eat a lunch of bread and cheese on the day that he claimed his land.
Located on the North Shore of Long Island,
Smithtown
is now composed of six hamlets; Commack,
St. James
,
Nesconset
,
Smithtown
,
Kings Park
and Hauppauge and three villages;
Head of the Harbor
,
Nissequogue
and
Village of the Branch
. The town is made up of approximately 120,000 residents that have access to three railroad stations, an array of high quality restaurants and a school district that is one of the highest rated on Long Island. A safe town and a great place to raise a family has been and will always be reasons residents are proud to call
Smithtown
home.
Please join us on December 13, 2018 at the Stonebridge Country Club as we celebrate the successes of the Long Island Business Community and our deserving honorees at HIA-LI's 40th Anniversary Holiday Gala.